DNVN - On April 19 in Hanoi, Vietnam Association of Small and Medium Enterprises (VINASME) and Lien Viet Post Bank (LIENVIETPOSTBANK) signed a framework cooperation agreement with the aim of implementing comprehensive financial support solutions for members of VINASME.
USAID supports Vietnamese small and medium-sized enterprises to increase export capacity / Italy wants to share experiences of small and medium enterprises management with Vietnam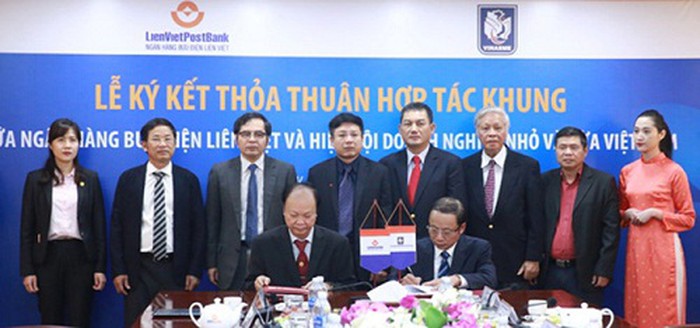 Mr. Nguyen Van Than (right) - Chairman of VINASME and Mr. Nguyen Dinh Thang (left) - Chairman of LienVietPostBank Board signed the framework agreement at the signing ceremony.
Attending the signing ceremony were Dr. Nguyen Van Than - Chairman of VINASME, Dr. To Hoai Nam - Standing Vice Chairman and General Secretary; Mr. Nguyen Dinh Thang – Chairman of LIENVIETPOSTBANK, and Mr. Nguyen Duc Cu – Vice Chairman.
Based on the cooperation agreement, the two sides will build a customer database, credit support programs, and preferential banking services, which are most suitable for members of VINASME nationwide; seek and call for capital from the government, domestic and foreign funds, and international financial institutions.
This agreement together with specific programs and actions will help members of VINASME to join LIENVIETPOSTBANK's credit program, improving the operational capacity of the business and aiming at building a strong, healthy and sustainable development community according to the government's goal.
In particular, LIENVIETPOSTBANK is also committed to supporting digital banking technology and services for businesses based on available capacity and product base ...
Nguyễn Hoàng Lân